Graduate Studies & Research
Mrs. Christine Chalhoub
Institutional Review Board Director
Christine brings a wealth of knowledge and experience within the clinical research field and the protection of human participants in research. In 2011, she took the lead in establishing the overall structure for the review and compliance of research involving human participants at LAU and LAUMC–RH, including setting up and managing the IRB Office. In addition, she is involved in disseminating the ethical requirements for the conduct of research through lectures, grand rounds and information sessions pertaining to the IRB across the University. She was appointed Director for the IRB Office in January 2018.
Christine holds an Honors Degree from York University, Toronto, Canada in experimental animal biology. She further pursued her education in clinical research to become a Certified IRB Manager (CIM) and a Certified Clinical Research Associate (CRA).
She carries an excellent record of accomplishments in the Human Research Protection Program and regulatory infrastructure governing research and has an extensive experience within North America and the Middle East (i.e. Janssen Ortho, Merck Sharpe and Dohme, American University of Beirut, Harvard Medical School Dubai Center and Dubai Healthcare City). Being an active member of the Society of Clinical Research Associates (SoCRA), and Public Responsibility in Medicine and Research (PRIM&R), Christine is devoted to renovation and continuous development, with diverse experience in the pharmaceutical field and academic medical community with special focus on strategic planning and quality improvement.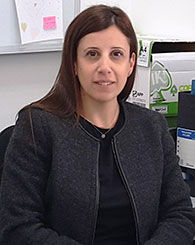 christine.chalhoub@lau.edu.lb
Ext. 2340